Diabetes.co.uk ID Wristband - only £9.97!
Right there when you need it, 24/7.
The Diabetes.co.uk Alert ID wristband is a wristband that could make all the difference in a critical situation.
Diabetes wristband: now only £9.97!
In an emergency situation, the effective Alert ID wristband alerts the emergency services that the wearer has diabetes and to contact the Alert ID Service.
One 24/7 call to the Incident Response Centre provides an action plan & the Alert ID team immediately begins the process of contacting the next of kin using the emergency contact numbers stored on the Alert ID Register.
What's so good about it?
Unique ID for each wearer
1 years FREE Alert ID service
Adjustable and removable
Extremely visible for instant alert in an emergency
24 hour a day Incident Response Centre to relay medical information and contact next of kin
What am I paying for?
The Alert ID band & registration costs £6 and includes:
Alert ID Registration Setup for whole family
1 x Diabetes.co.uk ID band
1 years service for FREE
If you like the service, a £10 Family Service fee is payable at the end of the first year for the following year and covers all Alert ID devices. You only pay if you want to.
Will it work?
The Diabetes.co.uk Alert ID gives guaranteed peace of mind for the wearer, not to mention their family and friends.
Ships:
24 hours [In stock]
Sizes:
Fits children, women and men
FREE service:
Each band comes with
1 YEARS FREE
Alert ID service |
More
How does it work?
In the event of an emergency those first on the scene will see the visible wristband and call our 24/7 Incident Response Centre using the Incident Number clearly displayed on the wristband.
The Incident Response Centre will request the wristbands Unique ID to identify the person in question so as to relay the appropriate medical information to those on the scene.
The Incident Response Centre will then contact the next-of-kin to inform them of the situation.
No more restrictions on how much information you can inscribe on your ID device
No worrying about replacing your device when your information changes
Once you've purchased and received your Alert ID products you'll be able to login to your secure online account and keep all your personal and medical details up-to-date.
For just £9.97 + 1 years free service, you can have piece of mind that your loved one is in safe hands.
The Incident Response Centre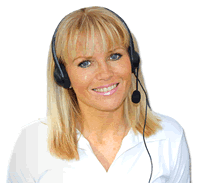 The Alert ID Incident Response Centre is open 24-hours a day to receive emergency calls, relay the registered diabetic condition, medication and action plan and immediately begin the process of contacting the family with details of the incident.
Emergency contact and medical information
Store as much or as little information as you like for each member of your family.
Your information is stored and managed securely online and only visible to you via you password and username and to Alert ID staff should you become involved in an emergency situation and your ID number is reported to the Incident Support Centre.
Product specification
Material: Soft PVC
Colour: Black Wristband with Red and White Information
Length: 243mm
Width: 18mm
Thickness: 2mm
Minimum Wrist Size: 160mm
Maximum Wrist Size: 230mm
Manufactuer: Made in the UK
Wristband: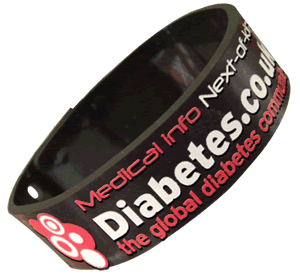 Wristband (flat):