Metformin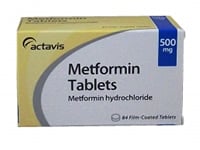 Metformin is a type 2 diabetes drug
Metformin is an oral antidiabetic drug for the treatment of diabetes. Created by Bristol-Myers Squibb Company, Metformin is approved in the US and the UK as a treatment for type 2 diabetes.
Click here to read our Diabetes and Metformin FAQs including information on lactic acidosis.
Other Names for Metformin
Metformin is sold both under brand names, and also as a generic drug. Common brand names include:
Glucophage
Riomet
Fortamet
Glumetza
Obimet
Dianben
Diabex
Diaformin
Metformin Treatment
Metformin contains the active ingredient metformin hydrochloride (or metformin hcl). Metformin is available both in combination with other drugs, or as a single treatment (a monotherapy).
Metformin was approved in 1994 (in the USA) and is prescribed as:
500mg tablets
850mg tablets
500mg modified-release tablets
750mg modified-release tablets
1g modified-release tablets
1g oral powder sachets sugar free
500mg oral powder sachets sugar free
500mg/5ml oral solution sugar free
Metformin SR
Metformin is also available as metformin SR, a slow release or modified release form of the medication.
Modified release versions of metformin may be prescribed for people experiencing significant gastro-intestinal intolerance as a result of standard metformin.
Type 2 drug
Metformin is a type 2 diabetic drug, and helps diabetics to respond normally to insulin. Like most diabetic drugs, the ultimate goals of Metformin are to lower blood sugar to a normal level and maintain this level. Metformin can be used in conjunction with other diabetic drugs, and diabetics should also use diet and exercise to help control their condition.
Transcript
Metformin is a widely prescribed drug for treating type 2 diabetes. Metformin is often the first medication that will be prescribed to people with type 2 diabetes. Metformin helps to lower blood glucose levels by reducing the amount of glucose produced and released by the liver, and by increasing insulin sensitivity.
Metformin is usually taken at meal times but your doctor will advise you when and how often to take metformin. Metformin may be available in tablet form or in sachets of powder.
The NHS state that Metformin may not be suitable for everyone. People at risk of lactic acidosis should discuss suitability of the drug with their doctor.
More common side effects of metformin include:
Nausea
Stomach pains
Loss of appetite
Changes in bowel movements
Changes in taste
Initial side effects may naturally alleviate after the first few weeks. Metformin is also available in a modified release form which may help patients that are having continued trouble in tolerating side effects of metformin.
How Metformin Works
Metformin helps the body to control blood sugar in several ways. The drug helps type 2 diabetics respond better to their own insulin, lower the amount of sugar created by the liver, and decreasing the amount of sugar absorbed by the intestines.
When taken alone, Metformin is unlikely to cause hypoglycemia or weight gain, but when taken in conjunction with insulin or a sulfonylurea both of these side effects are more likely.
Metformin and cancer benefits
A number of research studies indicate that metformin may be beneficial in reducing incidence of a variety of cancers.