Private Health Insurance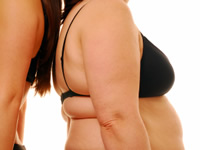 Choosing to go private for weight loss surgery is not unusual
Private health care for weight loss surgery typically includes aftercare; and coupled with long waiting lists for weight loss surgery on the NHS, many choose to go private.
Examples of weight loss surgery include gastric bands, gastric balloons, gastric bypass surgery, sleeve gastrectomy and more recently, the Endobarrier.
Going private for weight loss surgery or through the NHS?
Weight loss surgery is available on the NHS but waiting lists can be long.
Typically a patient can wait up to eighteen weeks to receive treatment upon referral, which private healthcare tends to avoid. A big advantage of private healthcare is that most providers will quote you a set price that includes aftercare appointments to make sure the surgery has gone smoothly.
How much will it cost?
Bariatric surgery can be quite expensive but there are some cheaper methods. Here is a short breakdown of what you might expect to pay.
Gastric bands - £6,000
Gastric balloons - £4,000
Sleeve gastrectomy/Gastric bypass - £10,000
Endobarrier - £3,000
These are basic average prices. For more detailed costs regarding aftercare and other additional fees see costs of private healthcare.
Will I be eligible?
There aren't many requirements for the procedure however consultants like to check you have tried other weight loss methods before turning to bariatric surgery.
Furthermore the average body mass index (BMI) of the patient should normally be 40 or 35 if you suffer from medical conditions such as type 2 diabetes.
A way of detecting this is if males have at least a waist size of forty inches and females have a waist size of at least thirty-five inches. It cannot be any less.
If you are currently taking any blood thinning medication or obesity drugs, then it's possible you will not be allowed the surgery however you will need to consult your GP.
What is the process?
The operations are normally a smooth process, particularly with the gastric balloon and Endobarrier as these don't require open surgery. Patients are also expected to be comfortable with a general anesthetic. The gastric bypass poses the highest risks, as it requires the stomach to be stapled in half.
Patients are normally required to attend an initial consultation. Dependent on the surgery, you may be asked to attend further pre-care appointments in order to check up on your diet, sugar levels (if diabetic) and whether your body is ready.
Most contact will be made after the operation during follow up consultations. With the gastric bypass and sleeve gastrectomy, you have to agree to follow up appointments before you are allowed to proceed.
You will regularly be required to meet with a dietician to monitor your diet as well as you GP who will check that everything is functioning, as it should.
If you experience any psychological lapses after the treatment, patient support groups are available to attend. It's possible that you will be attending aftercare appointments for up to two years after the surgery takes place.
Preparation for weight loss surgery
The following lifestyle changes should be made if you want to have a successful surgery and these will be checked during your pre-care appointments:
Eating a healthy and balanced diet
Exercising regularly. Your GP can recommend exercises
Keeping blood glucose levels under control
Like every form of surgery, complications can appear, such as:
Lung problems
Spleen injury
Anastomotic leakage
Bleeding after surgery
Wound infections
Blood clots
Blockages
Excess skin from rapid weight loss
These may vary from patient to patient and would be best discussed with your GP or private consultant.
How long will the operation take?
As some of the surgical options are more severe than others, they differ in terms of recovery times and after care.
After having the gastric band, patients can normally go home within two days followed by a two-week recovery. This is then followed up with appointments to check the bands positioning is in line.
Results are often seen within two years of the operation.
The gastric balloon and Endobarrier surgeries are normally quite short and the patient can return home the same day. Some follow up appointments are required however; the apparatus are normally removed after six months.
Finally the gastric bypass has the longest recovery time. Patients normally find themselves released after three to six days in hospital followed by a six-week recovery period.
Follow up appointments are compulsory with dieticians, support groups and doctors. Patients normally lose around seventy per cent of their excess body weight within two years after the surgery.
Explore Private Health Insurance