Choose your FREE* meter upgrade
If you have a meter using the OneTouch Ultra® or OneTouch Vita® test strip, you can choose your FREE* meter upgrade.
Available in the UK and the Republic of Ireland.
All blood glucose meters need to be compliant with the latest performance requirements that are expected to come into effect in May 2016. Why wait for an upgrade?
If you are currently using a OneTouch Ultra2®, OneTouch Ultra®Easy, OneTouch Ultra®Smart, OneTouch Vita® meter or any other OneTouch heritage meter, you can choose your FREE meter upgrade.
Choose your meter upgrade
Choose between OneTouch Verio® and OneTouch Verio®IQ: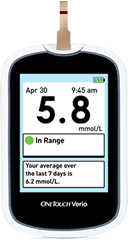 OneTouch Verio®
High-resolution colour display with large on-screen results
Colour-coded Range Indicator for

low

,

high

and

in-range

results
Test time: 5 seconds
No need to scroll or push buttons
Uses 2 AAA batteries (included)
500 test memory

Results are easy to understand and give you more confidence managing your blood glucose.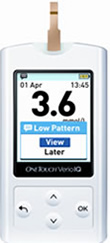 OneTouch Verio®IQ
Testing in the dark made easy - when you insert a test strip, the colour screen and meter cap light up
Tag readings as 'Before/After Meal'
Colour-coded alerts appear as soon as a blood glucose pattern is found
Test time: 5 seconds
Easy-to-use, intuitive interface
Rechargeable battery lasts 2 weeks between charges (cables included)
750 test memory
Helps to detect hypoglycemia by automatically identifying patterns included in your blood glucose.
Both OneTouch Verio® and OneTouch Verio®IQ come with the OneTouch® Delica® lancing device.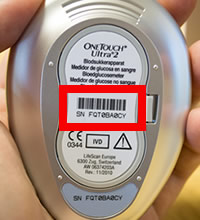 How do I find my serial number?
You will find your serial number on the back of your OneTouch® meter, underneath your barcode.
You can also find it on the box your meter came in.
Click here to see a bigger picture of where you can find your serial number.
If you can't see your serial number, please call
0800 279 4142 quoting code AE345.
Don't forget to register with Johnson & Johnson Family of Diabetes Companies
The benefits of registering:
Free personalised meter training
Free support with diabetes management software
Free control solution and logbooks
Free replacement meters (free of charge in the unlikely event that the meter stops working and the issue cannot be resolved)