Read blood glucose meter reviews:
Accu-Chek Aviva Nano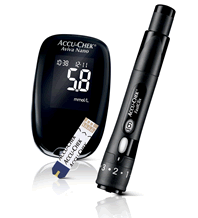 The Accu-Chek Aviva Nano blood glucose monitoring system boasts a smart but simple design. Housing serious style and performance in a small meter, the device is ideal for fast testing.
It's tiny - at 7cm tall and weighing in at 40g - but the Accu-Chek Aviva Nano from Roche is a real treat when it comes to blood testing. If you have to test, then you might as well use a cool gadget to do so.
Accu-Chek FastClix finger pricker
Small enough to fit in even a child's pocket, the Nano comes with a state-of-the-art FastClix lancing device.
The Accu-Chek Aviva Nano has a discreet glow in the dark meter display allowing for ease of use during the night and clearer visibility.
The Accu-Chek FastClix finger pricker incorporating Clixmotion technology with the chance to adjust the penetration depth of for less discomfort when testing.
Cutting down the test steps
The Accu-Chek Aviva Nano allows people with diabetes to test in half the steps, with lancets included in a pre-loaded drum of 6 lancets. This makes blood glucose testing less fiddly and and the lancet drums can be disposed of in household waste.
The Accu-Chek Aviva Nano system takes a very small blood sample and can record 7, 14, 30 and 90 day averages as well as produce pre and post meal markers and test reminder alarms.
As for the Multiclix, the technical specs say that the 'special cut of the lancets used and their smooth, polished surface means that skin penetration is virtually friction-free and no side-to-side motion for less skin tearing'. I can confirm that the Multiclix is a quantum leap in the very serious world of pricking your own fingers. It has improved safety as it uses a drum of six lancets.
Use each lancet once, but only change the drum every 6 tests.
Once used, the lancets disappear inside the drum so that no accidents can happen.
Accu-Chek Aviva Nano Technical Information
STRIPS: Accu-Chek Aviva test strips, available on prescription.

DATA: Data Port: infrared (IR) window, can be used with Smartpix download device
BATTERIES REQUIRED: (2) 3V lithium batteries (CR2032) Battery Life: Approximately 1000 tests
SUPPORT: UK: 0800 701 000 Ireland: 1 800 709 600
Display: LCD with auto backlight
Automatic Power: 90 seconds
Auto power on with strip insertion
Auto off in 2 minutes if meter not used
Power Supply: (2) 3V lithium batteries (CR2032)
Battery Life: Approximately 1000 tests
System Operating Conditions: 6oC to 44oC (43oF to 111oF)
Meter Storage Conditions: -25oC to 70oC (-13oF to 158oF)
Relative Humidity Operating Range: 10% - 90%
Memory Capacity: 500 results with time and date
Dimensions: 43 x 69 x 20 mm (L x W x H)
Weight: approximately 40g with batteries
Data Port: infrared (IR) window
Test principle: electrochemical
Test Averages: 7, 14, 30, and 90 day with pre and post meal averages
Further features: hypo indicator, pre- and post-meal markers, 4 customisable test reminders, general marker, post-meal reminder, auto control ID
Product Guide written by Diabetes Expert Sue Marshall.