Metformin is an oral antidiabetic medication belonging to the biguanide group of drugs used in the treatment of type 2 diabetes.
Click here to read our Diabetes and Metformin FAQs including information on lactic acidosis.
Other names for metformin
Metformin is sold both under many brand names, and also as a generic drug. Common brand names include:
Riomet
Fortamet
Glumetza
Obimet
Dianben
Diabex
Diaformin
Metformin for diabetes
Metformin contains the active ingredient metformin hydrochloride (or metformin hcl). Metformin is available both in combination with other drugs, or as a single treatment (a monotherapy).
Metformin was approved in 1994 (in the USA) and is prescribed as: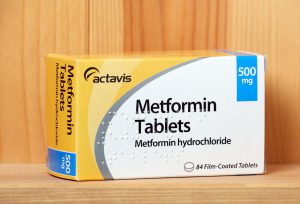 500mg tablets
850mg tablets
500mg modified-release tablets
750mg modified-release tablets
1g modified-release tablets
1g oral powder sachets sugar free
500mg oral powder sachets sugar free
500mg/5ml oral solution sugar free
Metformin SR
Metformin is also available as metformin SR, a slow release or modified release form of the medication.
Modified release versions of metformin may be prescribed for people experiencing significant gastro-intestinal intolerance as a result of standard metformin.
Type 2 diabetes drug
Metformin is a type 2 diabetic drug, and helps diabetics to respond normally to insulin. Like most diabetic drugs, the ultimate goals of Metformin are to lower blood sugar to a normal level and maintain this level. Metformin can be used in conjunction with other diabetic drugs, and diabetics should also use diet and exercise to help control their condition.
Metformin is suitable for women who have gestational diabetes. Speak to your doctor before taking any medication.
How it works
Metformin helps the body to control blood sugar in several ways. The drug helps type 2 diabetics respond better to their own insulin, lower the amount of sugar created by the liver, and decreasing the amount of sugar absorbed by the intestines.
When taken alone, Metformin is unlikely to cause hypoglycemia or weight gain, but if it is administered alongside insulin or a sulfonylurea both of these side effects are more likely.
Many research studies have demonstrated decreased cancer risk and improved mortality rates amongst people with type 2 diabetes on metformin.
Side effects
Like most medications, metformin can have side effects. Many people report having to diarrhoea as a result of taking the drug, which in some cases passes over time.
It's important to speak to your doctor should any side effects become painful or impinge on your daily routine.
On the forum
Whether you're currently using metformin or would like to find out more, the metformin forum is a place where members of the diabetes community can share their first-hand experiences with the drug, offering advice and support to others.
Metformin and cancer benefits
A number of research studies indicate that metformin may be beneficial in reducing incidence of a variety of cancers.
Metformin and COVID-19s
More recently, metformin has been researched in regard to the COVID-19 pandemic.
Is it possible to come off metformin?
By making lifestyle changes such as regularly exercising and eating healthy foods, it is possible to decrease your blood HbA1c levels, improving your type 2 diabetes to the point you no longer need to take metformin.
Following the structured Low Carb Program helped Kate lose 19kg and she no longer needs metformin to help manage her diabetes.
Find out how she did it, and read other diabetes success stories here.