Product guide written by Diabetes Expert: Sue Marshall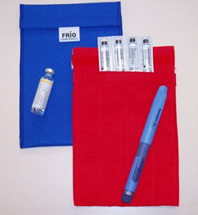 Frio wallets keep insulin safe for a minimum of 45 hours even in constant environmental temperatures of 100 degrees Fahrenheit.
There is a range to choose from, from the individual wallet (one pen), the Duo Pen Wallet (yep, that's for two pens!)), the Large Wallet (for pre-filled pens or insulin pens with cartridges), the Extra Large Wallet as well as the Injector Wallet, Pump Wallet and Vitesse Travel Case.
Buy Frio wallets from Medical Shop
As well as carry cases, Frio also provide:
Frio® Carry Cases – Frio cooling wallet carry cases are a simple and convenient way to keep your insulin cool if you need to.
More information