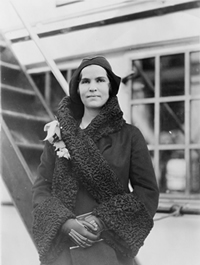 Name:
Elizabeth Hughes Gossett
Date of birth:
August 19, 1907
Hometown:
Albany, New York, United States
Elizabeth Hughes Gossett was amongst the first people to receive insulin injections to treat type 1 diabetes , which at the time was an experimental treatment.
She received an estimated 42,000 insulin shots throughout her life, according to the New York Times , but lived until 1981. She died at the age of 74.
Making contact
Gossett was 11 when she was diagnosed with juvenile diabetes in 1919. That she had survived until the age of 14 was surprising to many, but her health was deteriorating.
It cannot be said with certainty which type of diabetes Gossett had, but it is possible that she had MODY rather than type 1 diabetes. MODY is a genetic form of diabetes which, like type 1 diabetes, is often diagnosed in children, but was not as well known within Elizabeth's lifetime as it is today.
Once Gossett's mother, Antoinette Carter Hughes, heard that insulin had been isolated in Canada, she contacted Dr Frederick Banting in Toronto. Eventually, Elizabeth was invited to Banting's lab and she received insulin shots.
Her health improved so significantly that she was able to return to school in 1923, later graduating from Barnard College in 1929.
Legacy
Before she died, Gossett removed all references to her diabetes from her father's papers. She sometimes even denied that had she been ill as a child.
This is testament to the effectiveness of insulin that following her first treatment, when life expectancy for diabetes was less than a year and was hard to hide from others, she was able to live her life as she wanted.
In 1979 Gossett received an honorary Doctor of Laws degree from New York Law School. The annual Hughes-Gossett Awards, which were named in her honour, continue to be awarded to the best student paper on the court's history.
Gossett died on April 21, 1981.
Please enable JavaScript to view the <a href="https://disqus.com/?ref_noscript">comments powered by Disqus.</a>