Guide to HbA1c
HbA1c occurs when haemoglobin joins with glucose in the blood
HbA1c is a term often used in relation to diabetes and this guide explains what HbA1c is, how it's used for diabetes diagnosis and how it differs from blood glucose levels.
What is HbA1c?
HbA1c occurs when haemoglobin joins with glucose in the blood. Haemoglobin molecules make up the red blood cells in the blood stream.
When glucose sticks to these molecules it forms a glycoslated haemoglobin molecule, also known as A1c and HbA1c.
The more glucose found in the blood the more glycated haemoglobin (HbA1c) will be present.
How does HBA1c return an accurate average measurement?
Due to the fact that red blood cells survive for 8-12 weeks before renewal, by measuring HbA1c, an average blood glucose reading can be returned.
For non-diabetics, the usual reading is 4-5.9%.
For people with diabetes, an HbA1c level of 6.5% is considered good control, although some people may prefer their numbers to be closer to that of non-diabetics.
People at greater risk of hypoglycemia may be given a target HbA1c of 7.5%
This prevents too many low blood sugars from occurring.
How does HbA1c differ from blood glucose level?
HbA1c is a longer-term average that is sent to a laboratory and usually conducted in hospital clinics.
Blood glucose is a current reading taken either by a healthcare professional or at home by an individual with diabetes.
HbA1c as a percentage can be expressed as a value in mmol/L which can also be expressed as an average blood glucose level over a set period of time.
Transcript
One of the things you will become familiar with your diabetic diagnosis is the phrase HbA1c. It's not very user friendly, it is a medical term. It's to do with your haemoglobin in your blood. Haemoglobin actually gives the red colour to the blood cells, making your blood red.
One of the things that happens in the body's metabolism is that the glucose actually sticks to haemoglobin. Haemoglobin molecules usually live for 8-12 weeks. So within that life cycle they just give an average of the whole 2-3 months of your control.
You should be getting HbA1c reading every time you go to the clinic. Type 1 diabetics should go to the clinic once every 3-4 months if possible. Not all GPs do HbA1c tests. You might end up being sent to either to a phlebotomist at your GP's or to the local hospital to get the blood drawn to get this done. It's not usually something that can get measured on an everyday meter.
Although there are some meters coming out being designed for GPs surgery so that they can do an HbA1c test on the spot.
Like any number it needs to be taken in context. It's presented as a percentage. For example my HbA1c is normally 8.2-8.3%, it's not bad but it's not great. Ideally it should be under 6%. Normal people who are not diabetic it's usually under 5%.
Now, because the diabetic is dealing with the fact that their blood sugars can rise quite a lot we can't literally be expected to have the same reading as a non diabetic. Infact there is some evidence to point that trying to achieve that level actually reduces the chances of living a really long time if you do try to achieve that with diabetes, it means such tight control. Having said that the HbA1c is the best guide we have.
One of the things happening today is that the HbA1c test is actually being used to diagnose diabetes. It has been for a long time but the fact is that people do a one off test. If your doctor does a one-off test on you, you might actually be at that stage of having a normal or low blood sugar, so you won't show as having an abnormal blood sugar reading.
But if you have blood tests done over the space of a couple of weeks you might find that there are peaks and troughs that are not normal. Normal non diabetics simply don't go out of this range, if the range is like this people stay within it. Diabetics tend to do this. You go over and above the norm.
The HbA1c test is a stake in the ground, it's literally something you can hang your hat on. You can't judge all your diabetic control from it because of the fact that it's average. If your HbA1c is 6.5% it might actually be hiding quite badly controlled diabetes, so you might be spending an awful lot of time having hypos which wouldn't be very desirable in terms of quality of life.
Having said that it is very important because it's the clearest indicator we have as to your long term ability to live with diabetes and not end up with what they call diabetic complications which is damage to the body.
There was a test called DCCT, done in America. It wasn't a test but a study. It went on for 10 years from 1983 to 1993 and they took more than a 1000 people with diabetes, who had only had it between 1-15 years and who had no signs of either nerve damage or eye damage or kidney damage and they put them into two groups.
One had normal control as per the time frame, the history, how it was looked at being controlled back then which is 25 years ago. Versus what they call tight control which is really carb counting, multiple blood testing, multiple injections and they were able to show that the multiple, tight control helped stave off any complications.
It helped to have a much better HbA1c results and good HbA1c lead to a much better long term prognosis. So the HbA1c is an important number and you should be getting it looked at least every 3-6 months. If the numbers are always good then there is no need to worry but if it's always bad then you need to keep trying with new medications and new tools until you can get the balance right in your life.
Just a point about using the HbA1c test to diagnose diabetes: if it comes up higher than or greater than 6.5% you're pretty much defined as having diabetes. If it comes up between 6-6.5% you are probably going to be diagnosed with pre diabetes or what was for a while called the 1.5 diabetes, as opposed to type 1 or type 2.
If your reading is less than 6% then you are not considered to be pre diabetic or diabetic.
Download a FREE HbA1c to mmol/L chart
for your phone, desktop or as a handy printout.
When should HbA1c level be tested?
How often HbA1c levels should be taken depends on the person with diabetes and their history of control and treatment objections.
Generally, the following are considered best practice in HbA1c regularity.
Once per 3 months if trying to get better control.
Once per 6 months if good control achieved and maintained.
There is little point in having HbA1c checked regularly if you are not making efforts to control your diabetes.
Although HbA1c level alone does not predict diabetes complications, good control is known to lower the risk of complications.
How does an HbA1c show poorly controlled diabetes?
In well-controlled diabetes without a high level of glucose in the blood, a lower level of glycosylated haemoglobin will be returned.
Fig 1: HbA1c & Glucose Blood Levels
HbA1c
(%)
HbA1c
(mmols/mol)
Ave. Blood Glucose
(mmol/L)
13
119
18 mmol/L
12
108
17 mmol/L
11
97
15 mmol/L
10
86
13 mmol/L
9
75
12 mmol/L
8
64
10 mmol/L
7
53
8 mmol/L
6
42
7 mmol/L
5
31
5 mmol/L
If people with type 2 diabetes reduce their HbA1c level by 1%, there is a [1]:
In the case of poor control, with more glucose, a higher level of glycosylated haemoglobin will be returned.
But glucose level change all the time, don't they?
Blood glucose levels fluctuate constantly, literally on a minute by minute basis.
Therefore, for micro adjustments and regular checking, blood glucose testing is advised.
The HbA1c level changes very slowly over a 10 week period.
How do blood glucose levels compare with HbA1c?
The table on the right (figure 1) shows how average blood sugar levels in mmol/L would be translated into HbA1c readings, and vice versa.
Related Information: HbA1c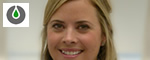 Verified health information
Last verified: March 2011