Read blood glucose meter reviews:
Accu-Chek Aviva Expert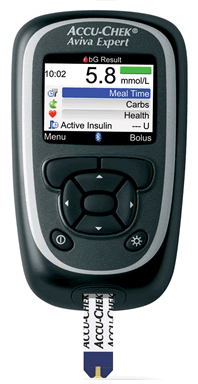 Product:
Accu-Chek Aviva Expert
The Accu-Chek Expert is a blood glucose meter that could be described in mobile phone vernacular as a 'smart meter', as the monitor can calculate your suggested insulin doses in terms of insulin to carbohydrate ratio and other personalised settings.
The meter is deserving of the Expert name as it is has a huge range of in-depth features. It is also one of few devices on the market to have a colour screen.
The Accu-Chek Expert meets the 2013 ISO standards for blood glucose meter accuracy.
Accu-Chek Aviva Expert system
The Accu-Chek Aviva Expert provides:
Offers bolus advice
Colour screen
Back light for use during the night
Results within a few seconds
No coding required
Charts, graphs and tables are available to track your recent results in the palm of your hand
Multiple safety reminders and pre- and post-meal markers and reminders - useful if you are new to diabetes
The Accu-Chek Expert has a rubber texture, which gives users a firm grip and prevents sliding off surfaces.
Users can be confident in replacing the batteries as it takes three AAA batteries, which are widely available.
Confidence and control for managing your diabetes
Providing confidence and control for people using Multiple Daily Injections, the Accu-Chek Aviva Expert system is clinically proven to reduce HbA1c.
Users have reported a reduced fear of hypoglycemia and an overall improvement to their wellbeing/life with diabetes.
Transcript
This is a look at the new Accu-Chek Expert from Roche and it's using a lot of its pump technology for its blood test meter. It has got a lot to do with carbohydrate counting and bolus advice and what it has, probably above and beyond what a lot of the other meters have right now, is a colour screen. The Accu-Chek Expert also gives you advice on what units to give yourself.
The Accu-Chek Expert will have been set up with your diabetes specialist nurse. As you set it up you need to plug in your insulin sensitivity and your carbohydrate to insulin ratios through the day.
As with all of the Accu-Chek meters, when you get your pot of sensors, it comes with a chip that you put in the side and it means you don't have to code in any other way. Once that's in there it's matched up with your pot of strips.
In the back go AAA batteries which is another relatively nice innovation. People like the security of knowing that you can get those batteries from any garage, you don't have to go to a specialist shop.
The strips are easy enough to use; the branded side goes up and the gold bit goes in. If you want to download the data onto your computer, then there's an infrared port and you can take it through Smartpix, which will pull it into your PC, and you can do other things with the data there.
Once I put the strip in, it lights up and tells me what to do on a nice, big colour screen. It double-checks the code with your pot of sensors with the chip on there. The kit comes with the Accu-Chek Multiclix. When you charge up with a new fresh lancet up there, stick it in to charge it and then you discharge it by clicking here - and it really doesn't hurt at all.
On you go with your blood. And you can see a little timer flashing away. It gives you a bunch of choices and you can scroll up and down and enter bits. Is it mealtime? No, it's not. Am I having carbohydrates? No, I'm not.
If you press the central button, like on a remote for a TV, you press the central bit for OK. You can put in things, no entry, fasting, exercise one, stress, illness, exercise two and even pre-menstrual.
Ladies tend to be insulin resistant pre-periods; your oestrogen acts as a bit of a dampener on your insulin; so pre-period you're probably going to have slightly high blood sugars. In this case, I'm not actually going to enter anything because I'm not really going to do anything particularly unusual after this.
You can pre-programme exercise one and exercise two. Exercise one might be walking to work, so it's a twenty-minute walk to the station or something. Exercise two might be an hour of playing squash and in both cases, you're going to need a little less insulin and that's part of the factoring that the algorithm will do for you.
Also, it's got something for active insulin because as we all know, sometimes you do a blood test and it might say 14.4 - but you know you've just had breakfast, you've just had your insulin and you know it's still doing its job. It's still got like a two hour profile that its doing and you wouldn't want to pop any more insulin on top because chances are, it's already on its way down and if you ram a bit more insulin in, it's going to really go down.
What I also think is really groovy about this machine, it's very easy to use and I think it's quite intuitive. You've also got a little button for the light and I don't care what anyone says, I think having a light on these meters makes a big difference. A lot of us blood test at night-time.
It's also got some nice little rubberised wedges and feet, so if you've got it on the table, then it's not going to move around too much.
The handbook that comes with it is very clear and easy to understand and as part as the whole set up, when you're given this machine, is a book on carbs and cals which also helps.
This meter is particularly good if you're either new to diabetes, especially type 1 diabetes, or if you're relatively new to carb counting because this is really going to help you relate your blood test results to your food and your own insulin usage and profile.
Providing bolus advice
The Accu-Chek Aviva Expert bolus advisor system will provide you with recommendations on the amount of insulin for food intake, based on your:
Current blood glucose test
Expected food intake
Current health or activity
Individual settings such as your carbohydrate to insulin ratio and insulin sensitivity
Blood glucose range correction
The Accu-Chek Expert will also suggest corrections for blood glucose levels that are not within your target range, helping you achieve improved control.
You are still in control of the amount of insulin you administer but the device provides you with a suggestion that will correct your high or low blood glucose levels which can be useful for new and long term diabetics alike.
Available from Diabetes Specialist Nurses
The Accu-Chek Aviva Expert system requires pre-setting with information such as your ideal blood glucose range and carbohydrate to insulin ratio for correct usage.
Therefore, this device is only available from your diabetes specialist nurse.
Accu-Chek Aviva Expert technical details
Blood sample size: 0.6 microlitres
Memory: 1,000 diary entries
Averages: 7, 14, 30, and 90 day including pre and post meal averages
Meter size: 55mm x 94mm x 25mm approx
Screen size: 34mm x 28mm approx
Weight: 103g (including batteries)
Batteries: 3X AAA batteries