Read blood glucose meter reviews:
OneTouch Verio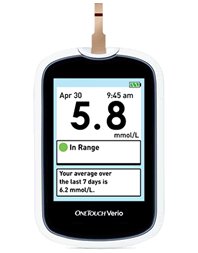 The OneTouch Verio is an alternative, simpler blood glucose meter to the LifeScan OneTouch Verio IQ.
It is a device built with simplicity in mind, to make testing all that much easier, whilst still packing in lots of useful features.
The meter makes it easy to see whether your results are in your desired range and also gives you regular progress reports to keep you well informed and motivated.
The OneTouch exceeds the 2013 ISO standards for blood glucose meter accuracy with over 99% of results within the accuracy boundaries.

OneTouch Verio features
Simple design: One screen, simple menu and three buttons to make using the device as easy and intuitive as possible
Can judge results and immediately signal if the result is above, below or on your target guidelines, which are alterable to make it personal to your requirements
Log your readings and review them at any time
7, 14, 30 and 90 days averages keep track of your blood glucose control that can be checked at any time
Can spot patterns and alert you to patterns in blood glucose, e.g. having a high range over the last few days at a specific time, alerting you and letting you take the steps to prevent the pattern repeating.
The OneTouch Verio blood glucose meter uses AA Batteries so it is always ready to go with a power source that is readily available and easy to change.
OneTouch Verio Test Strips
The OneTouch Verio system only uses the OneTouch Verio test strips.
No need to code the strip and the meter, the strips and meter do it automatically.
Only a small blood sample is needed
Plasma calibrated to allow easy comparison of results with laboratory methods
These side applied test strips allow blood to be easily applied from any test site
Strips are touchable, making insertion to the meter easy
Transcript
There are lots of things I love about this meter:
It's well designed and compact
It has a colour screen
It's simple to navigate and use
It actively keeps you updated on how you're doing
I'll explain how it keeps you updated.
If you take a test, it'll not only tell you your result but also whether your result is in range or whether it's high or low.
Additionally, along with your result, you'll often be given additional information to update you on your progress.
If you get a low result, the meter will alert you to the fact that it's low, tell you to treat the hypo and test again in 15 minutes.
If you've recently had a few low sugar levels around this time of day, the meter will alert you that it's recognised a low pattern.
When you've treated the hypo, you can come back and review the pattern on the meter.
With high results, the Verio will alert to when a result is above your target level. You can adjust the level at which the meter recognises a high and low level.
Also, if you've had a few high results recently, the meter will tell you that a high pattern has recently developed which you can review in more detail.
If your result is in range, the meter will not only let you know you're in range but also give you your 7 day average.
The meter can also give you either a progress report which lets you know how many tests you've taken and how many of those times you've been in range over the last 7 days or an achievement note to tell you you're back in range after having had a run of high or low results.
Let's take you through a test:
The lancing device is the OneTouch Delica, I've already primed it ready for the test
Put a test strip into the Verio and it turns on
Prick your finger and apply it to either side of the test strip. Only a small droplet of blood is needed
There's the result
The Verio has a really clean design to its display and it's to navigate to find the results log, averages and review any patterns the meter has picked up.
Let's go through these:
The results log not only gives you your results, including the date and time but also includes any pattern markers linked to those results.
Averages are available over 7, 14, 30 and 90 days.
You can also review your recent high and low patterns.
If you need to update the time and date or other aspects, such as which messages are displayed, this can be done in the settings menu.
So that's the OneTouch Verio - a meter that does more than just taking blood sugar results but also let's you know how you're doing.
It's helpful to have a meter that will let you know when your results are trending higher or lower than usual and also gives you a progress report at other times.
Technical specifications
Blood sample size: 0.4 microlitres
Time for result: 5 seconds
Memory: 500 test records
Averages: 7, 14, 30 and 90 days
Battery: Two replaceable AAA alkaline batteries
Dimensions: 80 x 52 x 25 mm
Weight: 85g
Measurement range: 1.1 to 33.3 mmol/L
Haematocrit: 20 – 60%
Operating conditions
Temperature: 6° - 44°C (43 - 111°F)
Relative humidity: 10 – 90%
Altitude: Up to 3,048 m