By Joe (Joesph JM Fraser)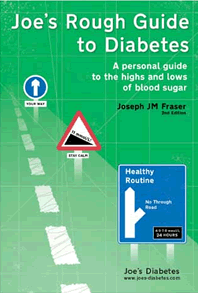 Title:
Joe's Rough Guide to Diabetes
Publisher:
Joe's Diabetes Ltd
Joe wrote the 1 st edition of the diabetes handbook, Joe's Rough Guide to Diabetes in 2005, sponsored by Sanofi Aventis and were published by Wiley in 2006.
Type 1 diabetes
Joe Fraser was diagnosed with Type 1 diabetes in November 1999 when he was 13 years old. He had been on holiday with his family in France and constantly needed to pee on (what turns out to be) the lengthy car journey from Calais to Paris.
As he remembers, "When I got back from the trip I felt quite tired for a few days, but not bad enough to make me take time off school. As part of the trip we had brought back quite a few goodies (pastries, strange chocolate bars and Orangina), which I merrily tucked into after a long day at school. Later that night I paid the consequences for that binge, waking up between 6 and 8 times to pee. It was at this point I started to realise something was up."
Readings off the scale
Joe went to see his GP the following day who took a glucose reading which was 'off the scale', and so Joe was referred directly to the local hospital.
"Following another blood test and about 10 hours waiting around, I was diagnosed as diabetic and had my first insulin injection ," says Joe. "I found the first couple of years of the condition quite tough. I never went wildly out of control (I wasn't admitted to hospital due to diabetes until a once in a lifetime incident last year), but the constant measuring and injecting was very trying. I finally managed to control the disease properly by the time I was about 15 or 16 and moved on to the four-a-day injection routine. With the greater flexibility of this regime I learnt the importance of carbohydrate counting and matching my insulin dosage accurately."
Diabetes direction
When Joe turned 18 he decided to write a book about how to achieve optimal control. The resulting book was Joe's Rough Guide to Diabetes, A Personal Guide to the Highs and Lows of Blood Sugar , which was published in 2006. Joe's motivation was simple – "I would've found it incredibly helpful if I had such direction when I was diagnosed."
Joe explains that "…by that point in my life I had really taken control of my diabetes and understood how different foods would affect me depending upon various factors such as the food's glycaemic index , my level of activity, and the climate. I tried to make the booklet truly useful by being as comprehensive as possible."
Joe's Rough Guide – Second Edition
Last year Joe revised the book and the 2 nd Edition keeps the best bits of its predecessor but is significantly expanded with hints and tips scattered throughout the book, as well as a new section at the end bringing all the advice together – how to work out how much insulin to take
The point of the booklet is to give readers enough information and advice to learn how to live as independently as possible for an insulin dependent diabetic.
Book summary
Introduction
Where Joe explains why he wrote the booklet and sets out the issues involved in managing such a complex disease as Type 1 Diabetes.
So… you have Type 1 Diabetes
A simple biological explanation of the disease with a description of the most common problems of control – hyperglycaemia and hypoglycaemia.
Day-to-day living
A look at the practicalities of living with diabetes, from injections and testing techniques to forming a Routine, to dealing with hypos and hypers, to balancing insulin dosage and food intake.
Exercise
How to handle the complications and benefits that exercise brings. Includes sections on losing weight, sex, and how to work out your insulin: exercise ratio.
Drugs
This covers the effects of 'mainstream' drugs such as cigarettes and alcohol, on diabetes control including how to work out your insulin: alcohol ratio. It also touches on the effects of harder drugs such as cannabis, ecstasy and cocaine.
Travelling
What to think about when going away, from how to prepare, what to take, and how to deal with new factors that effect control, such as heat and altitude. Includes a section on driving and diabetes.
Hospital, School and Work
What to expect from visits to diabetic clinic, and advice on dealing with the pressures of school and work upon your diabetic control.
How to work out how much insulin to take
A range of in-depth examples showing various insulin calculations worked out for different activities, such as exercise and drinking. Also includes example routines for normal living, weight loss, and illness.
Joe's Small-in-one and why I made it
A description of Joe's carry case and why he thinks it'll help you achieve a perfect balance of having a flexible lifestyle with good diabetic control.
Helpful Information
This section has a range of Glycaemic Index and Carbohydrate tables, along with links to useful organisations."
About the Author
Joe Fraser was born in 1986 and diagnosed with Type 1 Diabetes in 1999. Since graduating from Exeter College, Oxford with a BA in English Language and Literature in 2008 he has been busy developing Joe's Small-in-one He now divides his week between running his company, Joe's Diabetes, and working for the social entrepreneur, Lord Mawson.