Read blood glucose meter reviews: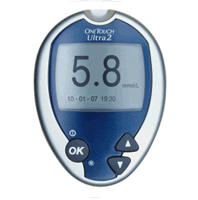 The Lifescan OneTouch Ultra 2 Blood Glucose Meter is designed for good diabetes management.
The meter is easy to use but has been surpassed by modern meters, such as the OneTouch Verio and OneTouch Verio IQ which require a better range of features and provide greater accuracy.
The OneTouch Ultra2 is based on the widely-used OneTouch Ultra.
After more testing feedback from doctors, nurses and patients, and latest technology – the OneTouch Ultra2 Meter provides all the information necessary to help manage diabetes better.
LifeScan OneTouch Ultra2 Contents
The Ultra2 box includes:
Meter (with batteries installed)
Guidebook
OneTouch Ultra test strips
OneTouch UltraSoft lancing device
Lancets
Benefits of the OneTouch Ultra2
Fast test time – 5 Seconds
End fill test strip automatically draws in blood
Test on forearm, palm or finger
Large display with backlight
Data port for transferring data to computer
No cleaning necessary
Customer Service Helpline
Three-year warranty
Technical specifications
Blood sample size: 1 microlitre
Time for result: 5 seconds
Memory: 500 test results
Averages: 7, 14 and 30 days
Battery: One replaceable 3.0 Volt CR 2032 lithium battery
Dimensions: 79 x 57 x 23 mm
Weight: 43g including batteries
Measurement range: 1.1 to 33.3 mmol/L
Haematocrit: 30 – 55%
Operating conditions
Temperature: 6° – 44°C (43 – 111°F)
Relative humidity: 10 – 90%
Altitude: 3, 048 m
The LifeScan OneTouch Ultra2 previously boasted a fast test time, small sample size, a three year warranty and customer service helpline, with no cleaning necessary.
As stated above, more modern meters now provide improved features.