Earlier this year we got a chance to interview professional snowboarder Chris Southwell.
At 26 years old, Chris is a world-class snowboarder who spends every winter travelling all over the world doing photo shoots, filming videos and competing on the World Freeride Tour.
Four years ago, Chris was diagnosed as having type 1 diabetes
D: Hi Chris, good to meet you. So, you're a professional snowboarder, what does this mean?
CS: I have been a professional snowboarder for 8 years now. What this means is that I get paid to snowboard. Its not quite as simple as that, I spend the season following the Freeride World Tour Competition circuit as well as filming for snowboard movies and doing quite a few road trips/photo shoots for various publications. I have been living in Verbier for the past 5 years and I am heading back there this winter. I live with my brother who is also a professional skier so we spend a lot of time riding together which is great fun. I am just very excited about this winter, as I have not been snowboarding since May.
D: And you have had some serious competitive success recently, and hope to further your world ranking this year?
CS: Yeah, last season was a good year for me in the competitive sense. I came 3rd at the Scandinavian big mountain championships which was a great result getting a podium in their back garden and I also came 9th at the freeride world tour quest event in Austria which was a great achievement. This season is gearing up to be even better as we have a few more stops on the tour and it all kicks off on the 5th of Feb in Austria .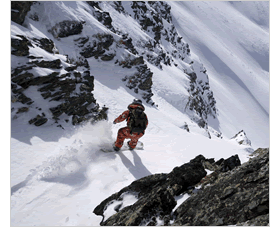 D: You are also heavily featured in snowboarding magazines and videos, is this part of your job?
CS: Yea, to get sponsorship we need to get coverage. In away we are like walking billboards. Over the season I normal get about 20 pages of coverage in forms of press, which is great for my sponsors. It's also great fun going on filming/photo shoot trips as we go to crazy place. Last season I was in Japan for just 2 days to do a photo shoot and a few seasons ago we did a filming trip all over the States going to 22 resorts in 6 weeks…. It can be quite hectic but that's part of the job and I love it. What helps is most the time I am riding with my brother so we are always pushing our each other and its always nice to have him around.
D: And you'll be based in Verbier this year, are you leaving soon for the winter season?
CS: Yea, I have been in Verbier for 5 years and cant wait to go back for another season. Verbier is amazing and has everything that you could wish for from amazing powder, great park and fun bars like the Farinet Hotel. Our film crew is also based there and so it makes the perfect base. If you are a keen snowsports fan and have never bee, you really should check out Verbier.
D: Four years ago, you were diagnosed with type 1 diabetes. How did your diagnosis come about? Do you have a family history of diabetes?
CS: At 22, I was having a great summer in the south of France but felt something wasn't quite right. I had a constant thirst, which I put down to the heat, was going to the loo 8–12 times a night and was very tired in the mornings. After a quick trip to the doctor, I was sent straight to a French Hospital, where I stayed for 10 days, with only one doctor who spoke English. My blood glucose was 43mmol/l, so I was not in a good way. They looked after me well and transferred me back to hospital in England for another two days. The only person to have diabetes in my family was my Granny who had type 2 , so it did come as a surprise when I was diagnosed.
D: Initially, it was scary. Life was suddenly very uncertain. My head was full of questions like 'why me?' and 'what do I do now?'. I was mainly concerned with how it would affect my snowboarding. But with a great group of supportive friends, family, doctors, nurses and sponsors behind men, I quickly put my doubts and fears to one side.
D: How has having diabetes affected your snowboarding?
CS: Being diabetic has not really had an effect on my snowboarding. It's all about preparation and that comes down to two main factors: a good diet and being prepared. A good diet means three meals a day. Breakfast consists of cereal and fruit – plenty of carbohydrates to keep my blood glucose levels stable during the morning. (Breakfast is always determined by what I plan to do during the day.) Lunch centres on having enough carbohydrates to last the afternoo, so it's normally a bowl of pasta, a plate of chips or a sandwich if I'm in a hurry. Depending on how the day went with regard to blood glucose levels, I eat what I want for supper but always have my fill of greens.
CS: Being prepared means making sure that everyone I snowboard with, go drinking with and play sport with knows that I am a diabetic. When I'm snowboarding, I'm a lot more intense with my riding partners and explain all the signs indicating high or low blood glucose levels. I make sure that they carry a hypo treatment with them at all times in case I lose mine.
CS: Being diabetic has never stopped me from taking part in a snowboard event. The only real problem is getting tired a bit quicker than other riders, so I take a few more days off. Everyone has been so supportive of me that I can't see any problems occurring in the future. My positive attitude plays a very important part in my career, as does safety, of course. As I said, it's all down to preparation.
D: You are a positive role model for people with diabetes, and show that being diagnosed doesn't hold you back. You've been recognised by the JDRF as an ambassador, what does this role entail?
CS: I like to use my experiences as a top-level athlete to try and inspire young people who have just been diagnosed or are struggling with their diabetes to try and releases that they can still live life to the full. I spend my days jumping off 100-foot cliffs and hiking powder faces and I have not let diabetes stop me. I am living my life to the full and my recent control has impressed all the doctors so my body is as healthy as ever. With JDRF I am helping them raise awareness about living life to full with Diabetes and I am just hoping my life experiences can encourage and motivate people. Being an ambassador for them means a lot to me and I find it such an honour helping people. I am also involved in a lot of fun rising for them. Next summer I am going from London to Paris on a Penny Farthing in just 3 days dress as Victorian for the charity JDRF. It's going to be a huge challenge but 1 am looking forward to. In 2006, I went from John O'Groats to Land's End on a monkey bike dressed up as a cow for Diabetes UK , I just love doing crazy charity fun raising projects.
D: If you could say something to young people with diabetes to inspire them, what would it be?
CS: On or off the slopes, even with diabetes, with the right control, determination, positive outlook and attitude, you can achieve even your wildest dreams. I'm still living mine.
D: Good luck on the tour this year, and with your career as a snowboarder. Would you like to give a shout-out to any sponsors?
CS: Yea, like to thank all my sponsors, Oakley, Allia, Verbier Sport +, Hotel Farinet, Pro-Tec, John Nike Leisuresport and Ski Club Of Great Britain. Also like to thank all my riding buddies, Mum, Brother and every one that has helped me get to where I am with my Diabetes. I hope to see you on the slopes.
More Information