We spoke to Dawn Hooper, founder of Medi-Tag about how Medi-Tag works & why people should wear Medi-Tag ID jewellery.
Why should people with diabetes wear Medi-Tag medical ID jewellery?
Accidents, sudden illness and emergency situations can happen to anyone at anytime. What would happen if someone with diabetes was unable to speak, or became confused or irrational whilst having a hypo? What if the symptoms of a hypo were mistaken for being drunk or on drugs?
It's easy to think: "my diabetes is stable" or "it won't happen to me". Hopefully it won't happen but for people with diabetes and other hidden medical conditions, rather than just leaving it to chance, it's extremely important that they wear medical ID as a safeguard for their own protection. It also helps the Emergency Services do their job more effectively.
Medical emergencies require a rapid response – any delay could be life threatening. A lack of knowledge about their diabetes would be a major challenge in emergency patient care. Medi-Tag ID jewellery provides vital information instantly that could save previous time and be crucial in effective patient safety.
Medi-Tag ID jewellery also tells the Emergency Services who you are and provides a contact number for a friend, relative or next of kin. This can save hours, even days for the Emergency Services and can let people know immediately if anything has happened to you.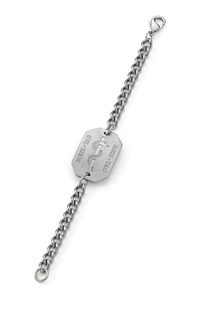 How does Medi-Tag work?
Medical and personal details engraved on the back of a Medi-Tag Bracelet, Pendant or Watch can convey that potentially lifesaving message – and also allow the wearer's nearest and dearest to be contacted without delay!
Also, thanks to our partnership with the West Midlands Ambulance Service NHS Trust, we can offer Medi-Tag wearers the option of membership to a highly professional and efficient International 24 Hour Emergency Telephone Service This means more medical and personal details are stored on a secure computer database, which can be accessed from the telephone number and unique membership number engraved on Medi-Tag jewellery. Language line facilities are available and the Service can be used 24/7 from anywhere in the world with good telecommunications.
How is Medi-Tag ID jewellery recognised?
Medi-Tag ID Bracelets, Pendants and Watches show the distinctive Aesculapian snake and staff medical symbol, acknowledged by medical professionals throughout the world.
Major lifesaving organisations use Medi-Tag in their awareness training programmes. Medi-Tag is featured in Emergency Service desk diaries, various magazines and on television eg in episodes of BBC Casualty.
Working in partnership with the NHS Trust, we continually undertake awareness campaigns to ensure lifesaving personnel, healthcare organisations and the public are aware of the Medi-Tag ID jewellery range.
If people already carry a card, why do they need Medi-Tag ID jewellery?
There's always the chance that a card can become separated from the person in an emergency.
Medi-Tag ID Bracelets Pendants, and Watches are worn on the body at the main pulse checking points – the wrist and neck – and will be seen far easier than a card.
What is the best Medi-Tag ID jewellery to wear?
Trained lifesavers and Emergency Services should look on the wrist or neck and so it is a matter of personal choice.
Every piece of Medi-Tag medical ID jewellery in the range has been specifically designed to meet individual needs. Having a background in jewellery, we designed bracelets, pendants and watches that were both practical and stylish so that people would want to wear them. We have to keep abreast of market trends and respond to public demand and last year introduced the dog tag design pendants and bracelets and extended the watch range to include exclusive designs from Seiko Pulsar.
For children we have bracelets and trendy Children's and Sports watches that are suitable for swimming. They offer protection to the child and reassurance to the parents.