Product guide written by Diabetes Expert: Sue Marshall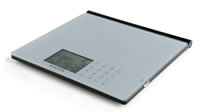 Product:
Nutri-Weigh Slim Electronic Scale
Salter's Nutri-Weigh Slim Electronic Scale can be used to keep your eye on what's in your food, what's a good portion size of the food as well as give its nutritional content. But for diabetics the biggest boon is the assessment the scales can also give of the carbohydrate content of that food.
Counting carbs
In days of old all diabetics  were encouraged to count carbs but then the system went out of fashio, but it's certainly making a come-back with the advent of courses such as DAFNE and DESMOND.
With all the nutritional values of your food – including the carbs for low carb counters – in hand then you should be on-track for keeping your diabetes under control too. These scales can help you keep tabs on making the most informed food choices possible.
999 food memory
The scales calculate the nutritional value of 999 foods from a national food database based on British eating habits, simultaneously displaying their nutritional results (carbohydrates, calories, fat, protein, salt and cholesterol values).
The scales memory function enables you to total up the nutritional values for all the components of a meal.
This can then be assed by day or week so if you want to stick to a 200-carbs-a-day regime then it should be possible to do so. The Salter Nutri-Weigh Slim also comes with a quick reference guide to look up individual foods. The scales double up as kitchen scale as well as a being a dietary computer (including measuring liquids).
The scale retails at £44.99 and is available from department stores, supermarkets and independent cooking shops.