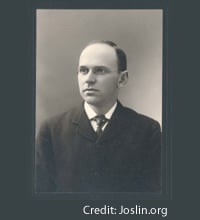 Name:
Elliott Proctor Joslin
Date of birth:
June 6, 1869
Hometown:
Oxford, Massachusetts, USA
Dr. Elliot Proctor Joslin's approach to diabetes treatment was unique in the early 1900s, as he focused on giving patients responsibility for their own care.
Joslin helped his mother – who had been diagnosed with diabetes in 1899 – to live 10 years after her diagnosis through a combination of meal planning , exercise and food management.
The life expectancy for diabetes had previously been just one year.
Joslin and his team developed the first hospital blood glucose monitoring system in 1940 and in 1965 he moved his practice into what is now known as the Joslin Diabetes Centre. This remains a leading worldwide clinic of diabetes, focusing on patient education and diabetes research.
In 1993, Joslin's belief that dedicated control was necessary in treating diabetes was confirmed by the Diabetes Control and Complications Trial.
Read more about Dr. Elliot Proctor Joslin here