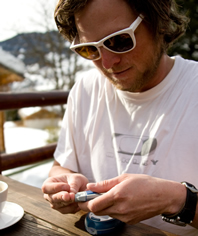 Date of birth:
June 2, 1982
Hometown:
Cholderto, Verbier
Chris Southwell is an extreme freeride snowboarder, who also happens to have diabetes. Having to test and control his condition on the slopes doesn't stop Chris flying off cliffs and competing internationally as a snowboarder.
Chris on the BREEZE 2
Chris Southwell uses the BREEZE 2 from Bayer to manage his diabetes. This is what he had to say about the BREEZE 2:
"I totally rely on the BREEZE 2 meter.
To keep up the pace of my training programme and competing schedule in Extreme Freeride Snowboarding, I need a meter that is speedy, accurate and convenient.
No other meter has given me this level of freedom to manage my condition and perform at this level.
The disc system holds ten test strips so I only load a new disc once a day… So, it lasts all day no matter what conditions I'm in! I get fast and accurate results  and it allows me to make any adjustments and concentrate on my riding."
Easy to use
"The Breeze 2 10 strip disc is so easy to use.
The last thing I want to be worrying about on the slopes is opening testing strips and trying to put them into a tester, with the self contained disc I can easily get a fast, warm hand reading.
The sensors on the tester even tell you how many strips you have left and in a matter of seconds a new disc can be loaded.
"Flying off a 90ft cliff,  snowboarding down 55 degree couloirs, or just in normal everyday life, the Breeze 2 always delivers a fast and accurate reading and it lets me get on with what I love, Snowboarding!"
" It also may seem like an extreme way to test the resilience of your blood glucose meter, but my Breeze 2 is still going strong."
Living the dream
"On or off the slopes, even with diabetes, with the right control, determination, positive outlook and attitude, you can achieve even your wildest dreams. I'm still living mine."
Get your own BREEZE 2
Enter the Contour competition here.