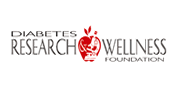 The Diabetes Research & Wellness Foundation (DRWF) is a registered charity, funding diabetes research (to date, DRWF has committed over £5 million), providing support to people living with the condition (through informational and educational materials and events) and raising awareness of diabetes and its associated complications to those at risk.
DRWF works autonomously in the UK but has sister organisations in the USA, France, Germany & Sweden.
The DRWF collaborates on international research projects under the umbrella of the Diabetes Research & Wellness Network.
DRWF: Ultimate goal
Whilst the ultimate goal is to find a cure for diabetes, the Diabetes Research & Wellness Foundation aims to provide the information, guidance and support necessary to enable people to be proactive in their self-care.
DRWF helps people improve their understanding and self-management of diabetes in order to enjoy a healthy and balanced lifestyle, whilst reducing the risk of its associated complications.
The charity strap line of 'staying well until a cure is found' reflects this aim.
DRWF currently has nine staff and utilises the services of volunteers where appropriate.