Product guide written by Diabetes Expert: Sue Marshall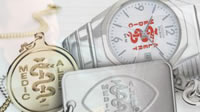 Product:
Medic Alert Jewellery
Manufacturer:
Medic Alert
The MedicAlert Foundation is the only registered charity that provides life-saving identification.
Members choose an Emblem from a range of MedicAlert jewellery, including some modern incarnations, such as dog tags or the funky looking 'urban' necklace style.
If jewellery is not your style then there are men's and ladies' watches that bear the International sign of medicine (so it's visible) with your unique membership number engraved on the back. You then renew your membership each year.
Emergency phone numbers
Whichever ID you choose, it has your membership number on it along with an emergency phone number that can be called to get details of your medical condition.
It can be accessed worldwide, 24-hours a day and allows your details to be accessed at any time in a medical emergency.  As a charity, MedicAlert works hard to raise awareness of the service amongst emergency personnel and healthcare professionals
MedicAlert membership
Membership to the MedicAlert service (including a tailored-made emblem) starts at £19.95 – going up to £99.95 for a watch – plus the first year's membership, which is £30.