Product guide written by Diabetes Expert: Sue Marshall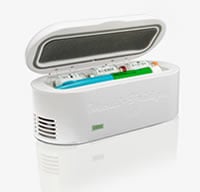 Type 1 diabetic Dr Olaf Diegel and his brother Uwe Diegel, the managing director of a medical business in Paris, have brought the MediFridge to the fore having developed it to make travelling with insulin generally a less stressful business.
Making travel easier for insulin users
The two men had already built strong international reputations in the field of industrial design for cardiology and quite often worked together on new research projects. Olaf, diabetic since the age of 17, is professor of industrial design at the Auckland Technology University. His job means a lot of travel to international congresses.
Keeping insulin cool
In hot climates insulin needs to be kept cool (insulin, like many other medications, is sensitive to heat and should be stored at a temperature between 2 and 8°C). Already a well-versed traveller used to travelling with his insulin and keeping it cool using ice-boxes and cooler bags , he and his brother decided, 'just for fun', to design the portable fridge that would use a Peltier Effect to create cold without gas or moving parts.
The prototype actually worked quite well, so the two brothers send it to an industrial design contest run by NASA in the USA. The product becomes a winner at the contest, receiving unexpected publicity and becoming the subject of an international story on the CNBC TV network. It then also receives an award at the Concours Lepine in Paris in 2005. All these events convinced the brothers to launch a first run of the Medifridge in 2005.
MedActiv
Today, the MedActiv products (MedActiv is the brand created by the two brothers to commercialize their products) encompass a full range of solutions for the transport and storage of all thermo-sensitive medications.
MedActiv has just launched the MF-MXIIa in Europe. This new version of the Medifridge is perfectly adapted for most heat-sensitive medications, such as insulin, growth hormones and medication for poly arthritis.
Price: Approximately £83 plus P&P.