Read blood glucose meter reviews: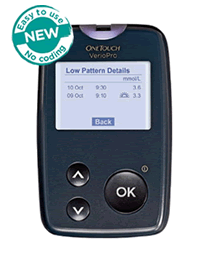 The OneTouch VerioPro is a diabetes blood glucose meter that not only records and stores your results but that also helps to make sense of them by spotting trends in blood glucose levels.
The meter will be of particular interest to those with Type 1 or Type 2 diabetes who manage their own insulin and are at a higher risk of hypoglycemia
Test strips for the Verio Pro require a very small blood sample size of 0.4 microlitres.
Results are blood plasma equivalent and, thanks to its GlucoFilter technology, the Verio Pro has been found to be one of the most accurate blood glucose meters available.
A meter that spots blood glucose trends for you
To help you maintain the best blood glucose levels, the Verio Pro features an on board high and low blood sugar patterns tool which enables the meter itself to detect trends and notify the user as soon as a pattern of low blood sugar levels is identified.
Identify trends
When such a trend is spotted, the user can view details of when they've been going low (or high) on previous days.
Store up to 750 results
The VerioPro can:
Store 750 test results
Provides a useful set of averages of 7, 14, 30 and 90 days
Add pre-meal, post-meal, fasting and before bed tags to results to organise and help analyse results
For further analysis of blood sugar trends, results can be uploaded to your computer by data cable and viewed using the One Touch Zoom Pro Data Management System. The software offers a useful array of different tables, charts and graphs which can be printed out as a report to show your doctor.
OneTouch Verio Pro: Practicality
Like many of the glucose meters in the OneTouch range, the meter is very easy to set up and use. The Verio Pro comes with a compact and convenient carry case, which allows the user to perform a test without having to take all the kit out separately.
The meter is helpful when it comes to testing in the dark as it has a backlit screen and a strip port light.
As well as only needing small drop of blood, the test strips are also self-coding so no worrying about calibration with each new pot of test strips.
Summary
The OneTouch Verio Pro is a reliable, practical and accurate blood glucose monitor.
The small blood sample size will mean less squeezing of fingers and successful tests the vast majority of times. The high and low tool will be particularly useful for people who lead fast moving lives and those who worry about hypoglycemia.
OneTouch Verio Pro best features
Instant notifications of high and low blood sugar trends
Unsurpassed accuracy
Very small blood sample size
A range of averages, going up to 90 days
Verio Pro specifications and technical information
Strips: OneTouch Verio Pro blood glucose test strips (available on prescription)
Batteries: 2 x standard AAA alkaline batteries
Data: OneTouch Zoom Pro Data Management System
Compatibility: Compatible with Windows 7, Windows XP (SP2 or above) and Windows Vista
Support: In the UK, call 0800 121 200 and in Ireland 1800 535 676