Desang kitbags are designed to make having diabetes easier by keeping everything you need to control the condition safe and in one place.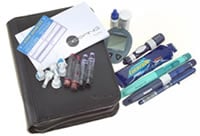 There are 3 Desang kitbags available, starting from only £19.99 and cost £4.95 postage and packaging.
Read a product guide to Desang's latest product – the Desang Diary
Keeping it tidy
Desang kitbags make a perfect companion for keeping your necessary tools tidy. What's more, Diabetes.co.uk users can get 10% off their purchase of a Desang kitbag.
Desang kitbag types
The Slim fits all blood testing kit plus one insulin pe, spare needles and cartridges, diary and pen. Enough for all-day management, if you have your long-acting insulin when you're at home.
The Classic (which is the best-seller) fits all blood testing kit, two insulin pens, spare needles and cartridges, diary and pe, and has some spare space too. Enough to last all day and overnight, or for a long-weekend.
The Roll-up fits all the above but has enough space to pack in enough extra supplies to last for a holiday.
Benefits of a Desang kitbag
Safe: The kitbags give protection to the kit being carried, including the blood test machines and insulin injection pens, which are life-essentials for people with diabetes.
Easy: Everything in one place makes it a whole lot easier to find bits, do a blood test or an injectio, and keep going with your life, thereby reducing the stress of having a high-maintenance condition.
Discreet: The kitbags are designed to look like an organiser, and not a medical box of tricks. That means they can be used without drawing attention and fit easily into briefcases, handbags and satchels.
Control: Having blood test and injection equipment handy, means that diabetes management is easier, leading to better diabetic control.
Confidence: The knowledge that everything is in one place, easy to access, safe and isn't going to attract attention gives back confidence to people with diabetes. And as their diabetic control improves, that too will boost their confidence.
Freedom: We all lead increasingly busy lives. A kitbag containing everything you need to look after the condition enables greater flexibility and freedom in the way you choose to live your life and will reduce the worry and stress of living with a serious, but manageable, condition.
Designed by a diabetic ( me! ) these address the problem that insulin-injecting or insulin pumping diabetics encounter having to carry around blood test kit (pot of sensors, lancing device, spares of both of these and the machine itself, pen and diary if you fancy), along with insulin pe, needles and cartridges (and spares of these as well). The idea is to stick all your kit in a specially designed diabetic kitbag.

There are three Desang kitbag models to choose from (the Slim, the Classic and the Roll-up) with two more coming early in 2010 (the Pen Pack and the Bottle Bank). They come in leather, microfibre and plastic in black, tan or blue. So there should be a kitbag to fit everyone"s needs. Once you fill it up you can rest assured that you"ve got everything on hand that you need to look after your diabetes.
They are smart and non-medical looking, and are of great benefit for anyone travelling as you can fill up your kitbag and keep it in your hand luggage when in transit " it makes getting through customs at airports a little easier with everything related to your diabetes in one safe place.
Each Desang diabetes kitbag purchaser should allow 21 days for delivery.