By Anthony Worral-Thompson and Azmina Govindji (published by Kyle Cathie)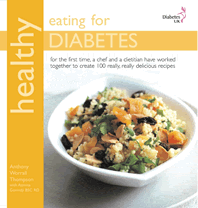 Title:
Healthy Eating for Diabetes
Publisher:
Kyle Cathie (2009)
Buy Healthy Eating for Diabetes
Written by acclaimed TV chef Anthony Worrall Thompson and dietitian and consultant nutritionist Azmina Govindji in association with the charity Diabetes UK
Healthy Eating for Diabetes features about 100 recipes in total, ranging from appetisers and brunches through to main meals and desserts.
Low fat and low GI
The focus of the recipes is on low fat and low GI foods and over half of the recipes should also fit in with those who are sticking to a reduced carbohydrate diet.
The book starts off with about 30 pages of practical and easy to digest dietary info before getting stuck into the recipes. The info includes some useful comparison boxes and the info is well laid out and easy to digest.
Easy to follow recipes
The recipes are easy to follow and well presented and illustrated, which should inspire both casual cooks and budding chefs.
As the recipes are low in salt, the ingredients through the book include a wide range of herbs and spices which will provide a great range of flavours for the palette.