The new eating plan to take control of type 2 diabetes, with 60 quick-and-easy recipes
The best self-help books educate you about a condition – and empower you to do something about it. Combine this with delicious recipes from around the world and you have Dr David Cavan's extraordinary new book.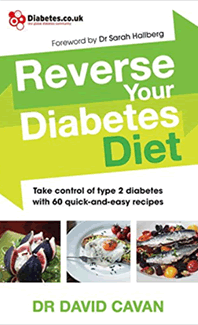 Title:
Reverse Your Diabetes Diet: The new eating plan to take control of type 2 diabetes, with 60 quick-and-easy recipes
Reverse Your Diabetes Diet won't just change the way you eat. It will change the way you think about food – and better still, change the way you view the diagnosis and management of diabetes.
Dr Cavan doesn't promise instant fixes or miracles. He says, very honestly: " Not everyone may achieve complete reversal, but even partial reversal associated with modest weight loss and lower glucose levels will significantly improve the long-term health outlook for many people. "
As a newly-diagnosed type 2 diabetic myself, I devoured every word – and found the science as easy to digest as the 60 recipes.
Explained simply
Type 2 diabetes is explained in simple-to-understand terms. It is as reassuring as sitting in a room with this world-renowned expert and having all your questions answered without any scary medical jargon.
The rise of type 2 diabetes – likened to a pandemic akin to the Plague in the Middle Ages – is blamed on diet and lifestyle.
Dr Cavan explains that eating too much, the rise in high-calorie food and drink and the decline in exercise have all contributed.  Factors like the increased use of cars, buying more processed food from supermarkets instead of fresh food from local shops, and the decline in physically demanding industrial jobs (even the use of television remote controls which stop us from jumping up!) make this a thoroughly modern epidemic.

Far from being a dry medical textbook, Dr Cavan serves up heaps of interesting facts.
Did you know that just two hours a day sitting on the sofa is associated with 20% increase in the risk of developing type 2 diabetes ? (Try to have one or two television-free days a week – and avoid eating in front of the box, suggests Dr Cavan).
Reversing the progress of type 2 diabetes

But the good news is the research discoveries that a reduction in calorie intake can reverse the condition's development. Dr Cavan explains clearly how diet and exercise can be altered to control your blood glucose levels and carbohydrate intake.
Briefly on the exercise, there is nothing here that any reader will find daunting or exhausting. Clever little tips – like parking the car deliberately further from the shops – help to increase your daily exercise
Now on to diet. Dr Cavan explains – with the help of simple tables –  what sort of food is good, and what is best avoided. We learn of the effect on our glucose levels from certain food.
Breaking the food myths
There are surprises. Be careful of buying food that is labelled as 'low-fat,' as this is often quite high in sugar to help improve the flavour.
Some foods – such as potatoes, rice and fruit juice , traditionally recommended as being suitable for people with diabetes, actually make hyperglycemia for people with type 2 diabetes more likely.
Indeed, when you eat carbohydrates you will produce insulin, which drives hunger – which may well make you feel hungry again after a couple of hours. Switch to fat and protein, which satisfy hunger better and help you eat fewer calories and lose weight.
Equally, carbohydrates – sugars and starchy food – affect glucose levels the most.
Dr Cavan's diet advises cutting down on carbohydrates, stating that every slice of bread, portion of chips, and portion of rice will cause blood glucose levels to rise.
However, brown rice or wholemeal bread are absorbed much more slowly and have a lesser effect on blood glucose.
Making lifestyle changes
The first third of this book explains diabetes and the need to make lifestyle changes. It educates you on the different food types – telling you what to eat and what to avoid – and sets realistic exercise targets to fit in with everyday life.
At-a-glance tables give you instant, easy-to-read guides to the GI index of different food, the sugar content of fruit – and even carbohydrate content of alcoholic drinks (bad news for vintage cider lovers!)
But just as you've digested the science, Dr Cavan serves up an array of delicious recipes from around the World which show you how to put the principles of the book into practice.
Recipe choices
Each recipe is followed by an easy-to-use table where you can fill in your blood glucose reading before the meal – and two hours after. You can record if it was effective, and also write notes on any changes you made to the recipe.
From Greek navarin of lamb to Italian aubergine parmesa, Sicilian-style tuna, Spanish Tortilla and Spicy Indian chicke, the main courses are flavour-filled and delicious without compromising your glucose levels. From breakfasts to starters, salads, light lunches, main courses and desserts, the recipe pages serve up treat after delicious treat.
The origins of the recipes and health values of the food make this a recipe book you can take to bed and enjoy. Even non-foodies won't feel daunted.
Recipe contributions by famous chefs Jean-Christophe Novelli (whose father had diabetes) and Giancarlo Caldesi the famous Italian chef who himself was diagnosed with diabetes turn this self-help book into a real treat to savour.
Finally – if you haven't time to think about a food plan, turn to the clever two-week meal plans at the back for an ideal, balanced diet over 14 days.
In short, Dr David Cavan has served up a treat with a book to help you make a real difference to diabetes – in the most mouth-watering way possible.
Amanda Cable is a former Sun Woman's Editor and editor of The People Magazine. For the past 14 years she has written health and features for the Daily Mail and other national newspapers and magazines, as well as broadcasting on TV as a presenter and commentator.