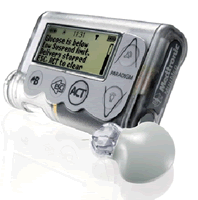 Product:
MiniMed Paradigm Veo
The standout advance that the Medtronic MiniMed Paradigm Veo has brought is its Low Glucose Suspend feature.
If the Paradigm Veo is used with Medtronic's Enlite CGM sensors, Low Glucose Suspend means that, if you glucose levels become too low, the pump will automatically cease insulin delivery until your glucose levels have risen back to normal.
Note: An even more advanced insulin pump is now available from Medtronic, the MiniMed 640G.
The MiniMed Paradigm Veo is available as two separate models, the MMT-554 and the MMT-754).
The difference between the 754 and 554 is that the 754 is slightly larger and has a larger insulin reservoir – 300 unit reservoir for the 754 and 176 unit reservoir for the 554.
Key features
As with other modern insulin pumps, the Paradigm Veo has a large number of features with some notable features being as follows:
Bolus wizard
Large 300 unit reservoir (for 754 model)
Up to 48 basal rates per day and 3 different basal patterns
Wireless Bluetooth connection with Bayer Contour NEXT Link blood glucose meter
Low glucose suspend – when used with Enlite CGM sensors
Disadvantages
Arguably the most commonly cited disadvantage with the Paradigm Veo is that, whilst it is splash proof, it is more susceptible to water damage than other pumps such as the Animas Vibe and Ypsomed mylife OmniPod.
Low Glucose Suspend
The Low Glucose Suspend feature is available if used with compatible Medtronic CGM sensors. When used with CGM functionality, this allows the pump to suspend insulin delivery if a low glucose level occurs.
The feature is therefore very useful for preventing severe hypoglycemia occurring and is a particularly strong benefit for people that experience night time hypoglycemia.
Note that the Medtronic's latest insulin pump, the MiniMed 640G , takes the technology a step further by being able to anticipate low glucose levels and suspend insulin delivery even before the low values have occurred.
Bolus doses
The Paradigm Veo can deliver bolus doses in increments as small as 0.025 units and allows the following types of bolus delivery to be used:
Express bolus (normal bolus) – full dose delivered immediately
Square wave bolus (extended bolus) – dose delivered evenly over a specified amount of time
Dual wave bolus – part of the bolus delivered immediately with the remaining dose delivered evenly over a specified amount of time
Basal rates
Up to 48 rates can be set over a 24 hour period making the Paradigm Veo a very versatile pump when it comes to basal settings.
In addition, the pump allows 3 different basal patterns to be set. This means that you can choose to switch to using one of 2 additional preset basal rates patterns. This means you can have, for example, a different pattern of basal rates for the weekend or perhaps a lower set of basal rates for use following strenuous exercise.
The Paradigm Veo also allows an additional temporary basal rate to be set.
Bolus wizard
The bolus wizard helps you to calculate bolus doses by taking into account your blood glucose level, the amount of carbohydrate you intend to have, any active bolus insulin in your body, your insulin sensitivity and your carbohydrate to insulin ratio for the relevant time of day.
You can set up to 8 different carbohydrate to insulin ratios.
To work, the Bolus Wizard needs to know your current blood glucose level. You can either input the level manually or, if you are using a directly compatible blood glucose meter, such as the Bayer Contour NEXT Link, you can send your reading wirelessly from the meter to the pump using Bluetooth.
Infusion sets
The Paradigm Veo is compatible with MiniMed infusion sets.
Technical specifications
Basal rate increments
0.025 units for basal amounts in the range of 0.025 to 0.975 units
0.05 units for basal amounts in the range of 1 to 9.95 units
0.1 units for basal amounts of 10.0 units or larger
Basal patterns: Up to 3
Basal rates per pattern: 1 to 48
Bolus dose increments
0.025 units for bolus amounts in the range of 0.025 to 0.975 units
0.05 units for bolus amounts larger than 0.975 units
Max bolus: 75 units
Bolus history: 24 bolus records
Reservoir
MMT-554: 176 units
MMT-754: 300 units
Dimensions
MMT-554: 51 x 83 x 20 mm
MMT-754: 51 x 94 x 21 mm
Weight
MMT-554: 95g
MMT-754: 102g
Battery: One 1.5 V AAA alkaline battery (must be a new, unused battery)
Operating conditions
Operating temperature: 3°C (37°F) to 40°C (104°F)
Air pressure: 700 hPa to 1060 hPa (10.2 psi to 15.4 psi)
Operating humidity: 20% to 95%
Medtronic helpline
UK: 01923 205167
Ireland: 1 5111 400