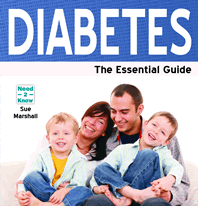 Title:
Diabetes – The Essential Guide
Publisher:
Need 2 Know (2009)
Diabetes – The Essential Guide provides extensive knowledge for someone with diabetes, their parents, carers, friends or colleagues. The book reflects the phenomenal rise in the number of people who are being diagnosed with the condition.

This guide can be used by the newly diagnosed , or someone who just wants to find out more about what a diagnosis of diabetes means.
It includes medical information about the condition and the types of medication available, and practical advice about how to manage it.
Information covering pregnancy , travelling and children with diabetes is also looked at in detail. The clear chapters and step-by-step approach allow the reader to locate and take in the information quickly.
The extensiveness of the guide enables anybody to pick up and begin reading, whatever their questions.
They can be confident that what they need to know is neatly slotted in to this handy reference book.
Early age diagnosis
Author Sue Marshall was diagnosed with Type 1 diabetes at the age of five. Now 41, she has lived with the condition for more than 35 years.
She says: "With some good advice, some understanding of what you're eating and the effect it has on your blood sugars, as well as a healthy dose of discipline, you can find a balance between having a chronic condition and having a life."

Sue is an expert on the range and purpose of current diabetes management equipment, which she says has "changed significantly in the last three decades since I was diagnosed". The improved equipment goes hand-in-hand with improved medications and medical knowledge, much of which is connected with the role of diet and behaviour in diabetes management.