Read blood glucose meter reviews:
One of the benefits of technology is that clever things can come in surprisingly small packages – meaning blood glucose meters are getting smaller.
Many of today's blood sugar meters are small, discreet and easy to use. Most blood test meters do the basics and do them well – almost all meters on the market have fast test-times, small blood sample requirements and downloadable results.
The smallest meters
For many people, the blood test machine they choose is down to what they are familiar with. Some people stick with the same manufacturer, some like to adopt the latest technology such as Contour USB and some people just listen to what their healthcare team recommends.
For many people however, having something portable, light and preferably pocket-sized is high on the agenda.
For that reason, we've selected the top 5 smallest blood glucose meters on the market in the UK. Many of the meters are very recent – with somen, including the Contour NEXT USB and Accu-Chek Mobile, leading the way in terms of innovation.
1. Abbott Diabetes Care Freestyle
The Abbott Diabetes Care Freestyle Lite is a stylish, discreet blood glucose meter. An easy-to-use machine, there is no coding required to make it work.
Sometimes referred to as a micro-meter or a mini meter, it fits into the palm of the hand, with room to spare while the screen is actually quote a big part of the design (good for kids and adults alike).
The hole you put the test strip in has a dash of yellow to help you load the strip into the right place while its rubber 'bum' means the meter won't slide about while you're using it.
2. Bayer's Contour NEXT USB
From Bayer, the Contour USB was released in 2010 and holds a rather whopping 2,000 test results. The point is to make it 'plug & play' so you an access and assess your blood sugar trends more easily than ever before – you just plug it directly into the USB drive of your computer or laptop.
The CONTOUR USB meter is fast and efficient, taking just five seconds to test with a tiny blood sample of 0.6 microlitres. It's getting great reviews from the community, too.
The meter weighs just 1.75 ounces, is 3 and ¾ inches long and 1 and 1 ¼ inches wide. In terms of size, you won't get much smaller, or cooler, than this.
3. Lifescan's One Touch UltraEasy
Lifescan's One Touch UltraEasy is marketed as having a small, sleek design so it fits in a pocket or purse. What's more, One Touch UltraEasy gives its test result in just 5 seconds and there is a 2-way scrolling button for simple navigation and a 500-test memory.
4. Accu-Chek Aviva Nano
At 7cm tall and weighing in at 40g, the Accu-Chek Aviva Nano from Roche is a treat when it comes to blood glucose testing, ideal for fast results. If you have to test, then you might as well use a cool gadget to do so.
The Aviva Nano has a discreet glow in the dark meter display, and includes a proven less painful Multiclix finger pricker incorporating Clixmotion technology.
The Accu-Chek Aviva Nano allows people with diabetes to test in half the steps, with lancets included in a pre-loaded drum.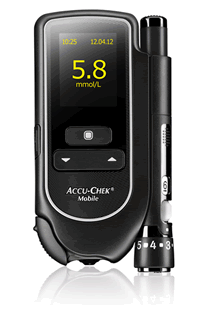 5. Accu-Chek Mobile
The Accu-Chek Mobile is another of technology's wonders. Similar to the Nano, the Mobile is a tiny device with strip-free testing.
Accu-Chek's Mobile device conducts blood glucose testing through a strip of reactive tape on a cassette – with each cassette lasting 50 tests. With a 0.3 microlitre sample size, this no coding device brings results to you within 5 seconds.
The Mobile lasts for months on just 2 AAA batteries and works with Accu-Chek's Smart Pix technology for downloading and recording data. When buying the Mobile in the UK, customers get a voucher for a free carry case, too.
With a 2,000 test memory, you'll be able to use your data to understand trends and patterns in your blood glucose levels. The Accu-Chek Mobile has won 2 consecutive Red Dot Design awards for its innovative and intuitive design and overall quality.
Cassettes and Fastclix lancet drums are available on prescription.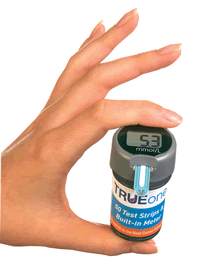 Stop press: We know that we originally were going to discuss the top 5 smallest blood glucose meters, but we managed to get our hands on the Home Diagnostics TRUEone – the world's smallest blood glucose meter.
6. TRUEone from Home Diagnostics
Home Diagnostics (UK) have released the TRUEone blood glucose meter which is the world's smallest blood glucose meter.
Designed to fit the needs of people with diabetes that test regularly, as it's small enough to fit in a pocket, handbag or sports bag, so you can quickly test their blood glucose levels no matter where you are.
Home Diagnostics TRUEone requires a separate lancing device.
Home Diagnostics TRUEone is available on prescription, PIP Code: 342-4389.
Small is beautiful
Very much like mobile phones, it's what kind of look, feel and functionality you require. After that, there's availability and affordability – can you get hold of the model you want and are the test strips and/or accessories expensive? It may be great having a nifty looking blood glucose meter, but if you can't find or afford the strips, it's useless.
It's always a matter of personal choice as to which meter to use, and your decision might be swayed by something as simple as it being as portable as possible, and for most of us that means small enough to slip in a pocket.
Small is beautiful, so they say, and less is more. If little is lovely, then you are well served by today's blood test meter technology. Just grab whichever one takes your fancy and take care not to lose it, as these things are so small that's a big possibility!
Review written by Diabetes Expert Sue Marshall