Victoza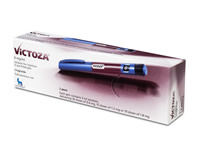 Victoza (Liraglutide) is a drug that is injected for treatment of type 2 diabetes
Victoza is a relatively recently developed diabetes drug. Victoza (liraglutide) is a GLP-1 analogue for the treatment of type 2 diabetes.
Recently approved in the USA by the Food and Drug Administration and in Europe by the EU, the diabetes drug operates with a 24-hour duration of action, meaning that a single injection is all that is required.
The type 2 diabetes drug has now been approved and is being prescribed for people with type 2 diabetes in the UK.
How does Victoza (Liraglutide) work?
Liraglutide works by stimulating the secretion of insulin as well as suppressing the secretion of glucagon in a glucose-dependent manner.
Unlike other diabetic drugs, Victoza is administered only once each day.
Liraglutide than functions over a 24-hour period to lower both fasting and post-prandial blood glucose levels, and help people with diabetes to manage their blood sugar.
Is Victoza clinically proven?
Liraglutide has been proven in double-blind randomised studies, in combinated with metformin, to produce significantly greater reductions in HbA1c when compared to metformin alone.
Furthermore, the addition of liraglutide to metformin resulted in a decrease in mean systolic blood pressure.
Liraglutide was also clinically shown to increase insulin production amongst beta cells.
What are the side effects of Victoza?
At this stage, the side effects of Victoza are not entirely understood in the UK as the drug is still in its early stages of approval. However, according to international reports, liraglutide is generally well-tolerated by people with diabetes.
On the Forum
Slight increases in minor, transient gastrointestinal side effects have been reported.
In liraglutide in combination with metformin, no episodes of major hypoglycaemia have been observed. Hyporglycaemia is more common when liraglutide is used in conjunction with a sulphonylurea.
Is Victoza more effective than other diabetes drugs?
Some head-to-head studies have showed that Victoza can be more efficient than Byetta. Following a 26-week study, patients who took liraglutide experienced a greater reduction in average blood sugar levels than those who took Byetta.
Furthermore, many patients preferred a once-a-day dose. Researchers have clearly stated that Victoza is an appropriate GLP-1 analog for the treatment of type 2 diabetes.
Technically, what is Victoza?
In science terms, Victoza is a once-daily human Glucagon-like peptide-1 analogue. At this stage, it is the only human GLP-1 analogue with a high 97% homology to natural human GLP-1 peptide.
Who manufacturers Victoza?
Victoza is manufactured and marketed by Novo Nordisk. Managing director of Novo UK and Ireland, Viggo Birch, was reported as saying: "Our goal for the development of Victoza was to find the best way to help people with type 2 diabetes maintain control over their glucose levels in a manageable way with reduced risk of hypoglycaemia."
Does Victoza help people with diabetes to lose weight?
Victoza has been shown to help patients to achieve weight loss by increasing satiety (feeling of fullness) and delaying gastric emptying, therefore reducing intake of calories.
Weight-gain is a common side-effect of type 2 diabetes treatments, and weight loss is an important goal.